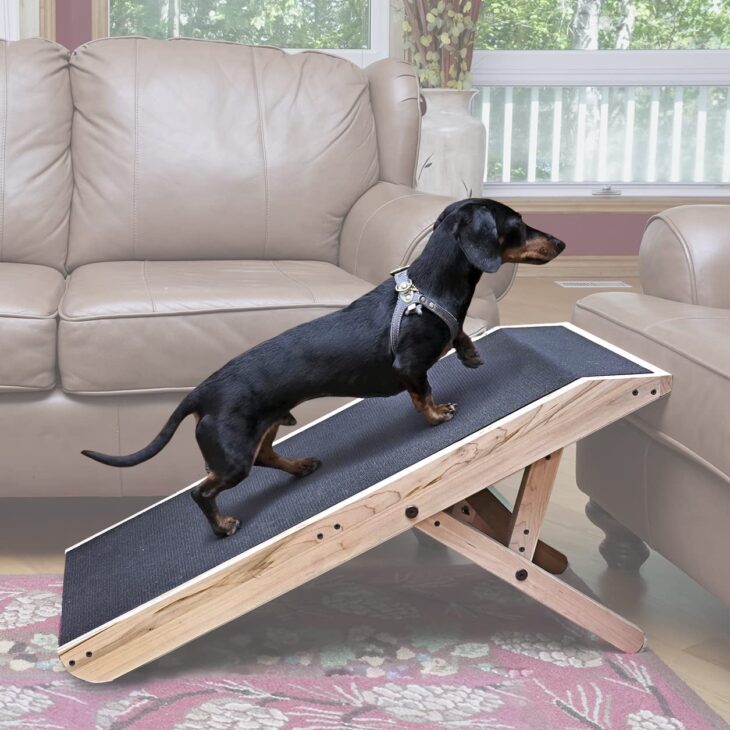 Doggo Ramps – Your Other Faithful Companion
The best Doggo Ramps is the one you will actually use. Having a big cumbersome ramp hidden in your garage behind the old bicycles doesn't really benefit you or your faithful companion. Even if it does get to see the backside of your SUV at some point, it's not all that useful when you get to your destination unless it's a portable dog ramp that traveled with you.
It's difficult watching your best buddy slow down. All those years of running and jumping have finally had their toil on his aging body. But, even though his physical body may limited, his mental body is still raring to go. He still loves his car rides, sitting in the passenger seat, accompanying you on all your errands around town. Stopping and visiting your favorite pet-friendly store for a few treats is just an added bonus!
The invention of the telescoping dog ramp for vehicles has made many happy canine co-pilots once again. These pet ramps were specifically built for allowing your dog to get in your vehicle safely, whether it's a short car or a tall SUV. It just takes a few extra seconds to extend the ramp, let your dog walk safely into your car. Close the ramp, and put it back into its place in your car. That little bit of extra time will mean a lifetime to your dog who just doesn't want to left at home.
Proactively using a dog ramp in your dog's youth can decrease the effects of arthritis as your dog ages by protecting his joints. Limiting jumping is one of the best ways to prevent an early onset of arthritis. It also helps minimize strained backs, damaged hips, and ligament tears. Extending a ramp could actually be extending his productive years as a happy, healthy pet.
Whether you need a St. Bernard or a dachshund ramp. There are a variety of ramps for dogs that can accommodate your dog's size and situation. There are actually dog ramps for beds, couches, and even boats. Each of these has its own unique attributes depending on whether they are use outside or inside or both. Outdoor ramps are weather proof and typically have a slip-resistant base so your dog can safely and confidently use the ramp. If you use an indoor dog ramp, your dog can still reach his favorite spot in your absence. You can feel secure knowing he's safely traversing the house without unnecessary jumping.