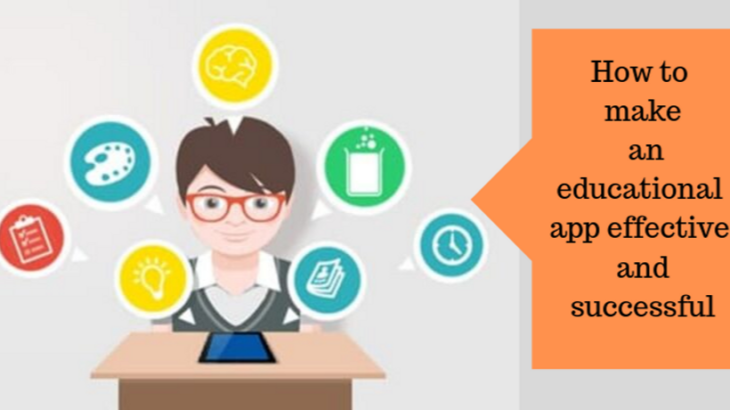 How to make an educational app effective and successful
Automation is becoming the norm with rapidly evolving technology. No sector is untouched from this phenomenon.
Education is also one of the sectors that are witnessing a huge transformation.
Thanks to machine learning and artificial intelligence, we are witnessing a revolution in how knowledge is imparted to the students.
While earlier, students used to visit websites to gather information, now the same can be done through dedicated mobile apps for education.
The popularity of mobile apps to get information in a very personalized way has encouraged new app ideas for students.
If you look at the market for an educational app, you will find that it is currently at $ 29 billion. It is expected to grow to $ 37.8 billion by 2020.
Experts have predicted that the total growth during 2018-2022 will be around 27.46%.
This huge potential for growth has encouraged entrepreneurs to look for unique educational app ideas that can be monetized to earn a decent profit.
If you are planning to create or market mobile apps for education, then you must ensure that it has the following features.
1). Simple login: If you want to attract students to download your educational app, then make sure to keep the login process simple.
Students who are the primary focus of your app do not have the time or patience to go through a lengthy login process.
The mobile app for education that you have designed or planning to design should allow the user to register in a few steps.
You can also allow them to register through their social media accounts.
2). Social media integration: Social media integration allows you to provide app users with a highly personalized interaction.
Social media platforms allow students to access information effortlessly.
The integration of social media platforms with educational apps will help the teacher and student to share information seamlessly.
Additionally, social media access will allow the student to share their experience with their friends.
The sharing of experience by the students in their group will help you to get more subscribers for your app.
3). The big database: Pay attention to design an architecturally sound database for your education app.
The data should be relevant and regularly updated to provide the best information source to the students.
The backend data structure should be smoothly connected to the front-end.
This will allow the student to experience an uninterrupted experience on the mobile education app.
4). Highly informative content: Content is the most important thing in any educational app.
It is important that the content should be detailed without sounding boring.
Make sure to put only relevant content that is based on the latest studies.
While the relevancy and accuracy of the content are essential, it is also important to focus on its presentation.
The student who uses your app should find it fun and easy to learn through your app.
You should provide a variety of content, including eBooks, tutorial videos, charts, animated tutorials and so on.
The wide variety of resources will allow you to attract a bigger crowd.
5). Include Interactive session feature: You should provide a 'ask the question', section in your mobile educational app.
There are innumerable problems and questions and it is difficult to provide answers to all of them in your app database.
Furthermore, some of your students may be looking to understand a point in a more detailed way.
To address these situations, it is important to provide a live Q & A session with a resident expert.
This type of live interaction will improve the reputation of your educational app.
Additionally, you will also get a set of typical questions which the students might find bothersome.
Once you have identified these questions, then you can provide their answer in the relevant topic.
6). Support multiple languages: People learn more easily in their mother tongue rather than any other language.
You must research your target audience carefully to find out what languages they are comfortable with.
You should then try to post your content in those languages which your target students predominantly use.
The educational app should allow the users to change the medium of instruction as per their convenience.
7). Notification: This is one of the best ways to inform the user about any new feature included in the app or a new content posted.
Push notification can be used to keep the user motivated and also offer a premium subscription to avail of some extra features.
8). Mock test: The user of your app should be able to check his/her overall progress.
The regular test is the best way to find out which parts he/she has mastered and which parts of the topic need further work.
9). Feedback: You should provide a feedback feature in your app.
This feature will allow you to get real-time feedback from your user about what they like about your app and which feature needs further tweaking.
Regular feedback will help you to customize the app as per the requirements of the users.
This will make your app relevant to a larger body of students leading to great downloads of your app and increasing its subscribers base.
10). User Interface: The User interface is one of the top elements that will help you to attract more subscribers.
Your UI should be designed in such a way that the user finds it easy and entertaining to interact through it.
11). Cloud-based interaction: If you want to include group task activity in your app, then cloud integration is a must.
It will allow users to create and edit their documents online.
12). Achievement bar: An achievement bar is a great motivational tool that allow the user of your app to measure how far he/she has come.
13). Offline mode: Make sure to provide some content that can be accessed without an internet connection.
You can allow your users to download some material or lectures that they can read or view when there is no internet connection.
Conclusion
Education App Development has a great future. The level of customization, convenience, and resources they offer can hardly be matched by any other mode.
If you want to develop a mobile app for education, then contact Guru Technolabs.
Our team of highly skilled and experienced developers will help you design and develop highly functional mobile apps for education.